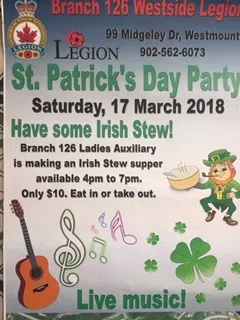 Branch 126 Westside Legion is holding a St. Patrick's Day Party on Saturday, March 17, 2018!
Irish Stew is on the menu.
Enjoy your Irish Stew with some LIVE entertainment at the Legion or take it home.
That's at the Westside Legion: 99 Midgeley Drive Westmount.
4-7pm  March 17, 2018
$10.00
Call 902-562-6073 for more information.